an In-Home Workout Program, created by Jackie Burgmann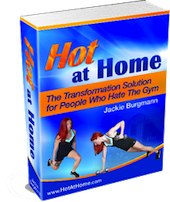 Jackie Burgmann is a successful Cougar living in Vancouver, Canada. She is a self-professed "Fitness Junkie" and former party girl. She went from being a smoker to having rock-hard six-pack abs, all without setting foot in a gym. And, she did it in the comfort of her own home! By experimenting, she figured out a special series of workouts that you can do in a tiny space, while getting super ripped. After her huge success at achieving her own fitness goals, Jackie decided to develop the Hot at Home program and share it with the rest of you who hate the gym as much as she does!
HOW IT STARTED
Jackie's journey began back when she was a teenager and in her early 20s. She was always very slim, but never really "in shape". She didn't work out or try to eat healthy foods. To make matters worse, she started smoking while enjoying the party circuit. It wasn't until one day, while running to cross a street and catch a light, that she realized how truly out of shape she really had become. This was the turning point for her. She decided this was it. She was going to get healthy. That day she became a non-smoker. This was different from all the other times when she had "tried" to quit because she felt she "should". Now, her health was at stake and her mindset totally changed.
START SLOW, BUILD UP
Jackie says it's important to start your workout regime slowly. When she first started running, she was only able to make it part of a block. The important thing is to keep making progress each day and take it one step at a time. She also realized the gym wasn't for her. Watch this clip to find out how she worked up to "becoming a runner" and what propelled her to finally quit the gym for good.
COMFORT FOOD
Then, because of several unfortunate life circumstances and a lot of stress, Jackie started turning to food for comfort. She says she was surprised by how much weight she had gained and the shock made her reconsider her lifestyle. She knew going back to the gym was not an option. Watch below to learn more about how she got back into working out and was able to figure out how to get real and effective workouts in the convenience of her small apartment.
MINDSET
The rest of the program was born when Jackie decided on the lofty goal of getting six pack abs. She says mindset is the most important part of the program. Jackie shares tips on changing the way you look at food. In this clip she explains how changing your mindset enables you to change your lifestyle so that you can effortlessly stick to your program and achieve your fitness goals.
ACCEPT & EMBRACE
Jackie says it's important to "accept and embrace" the lifestyle if you truly want to be in shape on a permanent basis, not just temporarily. She says it is hard work, but in this video she explains what you need to focus on instead, and how to use that focus to get yourself moving.
LACK OF SPACE IS NOT AN OBSTACLE
Jackie's program does not require a fully equipped home gym. Not only is her apartment is relatively small, and her workout space tiny (at 6′ x 6′), she has no problem storing dumbbells, fitness bands, and a jump rope. You really don't need a lot of space to get an effective intense workout in the privacy of your own home. In this clip she shares how you can inexpensively set up your own home gym.
WEIGHTS AND GETTING BULKY
Lifting weights will NOT make you bulky! Only excess body fat, or the use of anabolic steroids will make you look bulky. Other that that, training with weights will give your muscles tone and shape. Resistance training is the only way to achieve this look. Listen as Jackie explains the truth behind those photo shoots you see in the magazines and gives you the inside scoop on how those fitness models really get that lean.
SORENESS
In the beginning, and when you alter your program, you probably will experience some soreness. Soreness is actually a good thing. In fact, seasoned lifters seek out soreness as "proof" of a good workout. See Jackie explain why you get sore, when you can expect to encounter it, and how it is actually beneficial to your goals.
STAY TUNED FOR A LOT MORE ON THE HOT AT HOME PROGRAM!
CLICK HERE for more information on Jackie's HOT AT HOME Program!
In Part 2 …
learn how you can get even faster results than you would at the gym!
make progress with beginner, intermediate, and advanced programs
find out how to fit good nutrition into your lifestyle
fit even ice cream, pizza, and wine into your diet
Get YOUR copy of the HOT AT HOME program HERE!

Thanks For Your Thoughts!
If You Liked This, Please Share!